Guy was killed on 8/11/2000 by a drunk driver. He was headed home to his family on a Friday evening after work. He had come home and switched the pickup for the bike and was enjoying a nice summer evening putt to and from town. Guy had bought the Harley-Davidson FLST a couple of years or so before he was hit. He really enjoyed his bike and considered himself to be a very safe driver. Guy died as a result of a traumatic brain injury at the scene of the accident. The man who hit him was eventually convicted on criminally negligent homicide and a DUII. He spent a very short time in the county jail (6 month sentence, 4 months served).

Birth Date: January 29, 1960
Guy was 40 yrs old.


This photo was taken in 1976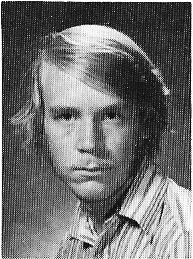 Guy Arlin Van Roekel

Guy leaves behind his wife Sandra Henry-Van Roekel, his daughters Anna, Karsten, and Katherine "Kit".

Miscellaneous Douglas County, Oregon Obituaries
https://www.findagrave.com/memorial/113903739/guy-arlin-van_roekel
============================================================
Things you probably didn't know about Guy:
First: Guy was big for his age.
Smoking: Guy started smoking about 15 or 16 yrs old. He would smoke outside while his mom was at work.
Drinking Beer: Guy started drinking beer about age 16. He looked older than he was. Guy could go down to a local liquor store and buy a six pack of beer. We liked Corona Light, Heineken, and another type of beer I can't think of. Guy was 16 yrs old, I was 18 yrs old, and our other friend, Joey, was about 15 or 16 yrs old. We would drink beer inside Guy's garage at his mom's place while his mom was at work.
Girlfriends: Guy had many girlfriends over the years. Most of them were virgins. Guy would joke about the ones that were virgins because he was proud of it. So if you was a virgin before Guy got you then he talked about you to other guys. One of Guy's hook-ups was his cousin in Cottage Grove, Oregon, this was about his teenage years. One day he told me about him hooking up (sleeping with) his cousin. One day I went to visit my other childhood friend, Ed Garton, who lives in Creswell, Oregon, just a few minutes from Cottage Grove. I stopped by the very small store that Guy's cousins owned. I saw his cousins, the two are very pretty looking girls, wow! There was a younger and an older one. The older one was the one Guy was talking about and I can see why they hooked up. When I first saw her I liked her! Later Guy told me that his cousins said that I made myself fill at home there because I was sitting on the side out a big chair just like his cousins were. His cousins was so, so friendly and very nice.
Guy is a Mom Mom's boy: Guy was raised by his mom. I didn't understand why his dad was not there for him. As Guy got older he would always end up back at his Mom's place. Guy would move out down the street or a few miles away but would hang out at his mom's place even when she was at work. Guy would open the garage door and just hang out and smoke. His mom always welcomed her son back home anytime. It was not a surprise to me to see Guy move from a big city where there is 50,000 girls to choose from to a small town where there is just maybe 5 girls to choose from, if you're lucky :-) , just to be close to his Mom.
Thieve: Guy was a thieve at an early age. When he went with his mom to his mom's work Guy would take small items and show it to us. He would always get a cigarette lighter. His mom worked as a loss prevention officer in local stores like JC Penny's, Sears, Macy's, etc. Guy stole a new motorcycle that was still in the shipping create from a place where he worked. I know this because one day I drove by his mom's place and saw Guy and some of his friends was opening the create in front of the opened garage door. Guy told me that he just stole this bike. Before that Guy stole a Honda 1000cc bike. I know this because one day I stopped by his mom's place and he was letting his friend test drive the bike. Back then you did not need to wear a helmet. I went on the freeway and got up to about 70 mph and when I got back Guy was mad because I was gone for a long time. I was only gone for about 15 minutes. Guy and a friend stole a VW Bug. I know this because my VW bug had big dents in it. One day Guy and I was talking about that and Guy asked me if I wanted a VW bug shield (body). My VW bug was 1976, and this VW bug body was 1970, I think. Anyways I paid Guy $200 for the VW bug body, not knowing at the time that it was stolen. Guy and I took off the old VW body and put on the one I bought. It fix okay and I was happy. After I found out it was stolen I was unable to sale it and when I was ready to get rid of it I give it to a neighbor with the title I had.