At the age of 19, I got a job as a Security Guard. I was assigned a different place about every other day. It was an interesting job. I would walk around the buildings looking for unusual activities. One place I was at for a few days was Knudsen, Lucerne, City of Commerce, California. I saw how they made their ice cream. I saw bags of ice cream power in a big store room. I would walk around the plant with a clock type device and find keys to put into the clock and turn it. This was how I did my rounds and how it was tracked.
At the age of 35, I worked as a Store Detective. My job was to watch people steal. If I did see someone steal something I would wait until they left the store and stop them. After I stop them I would bring them to the back of the store and call the police. The police would take my report and take the person to the police station. The person being arrested for shoplifting would be given a trespass and a fine of about $250. The trespass would not let the person back into the store for one year. 
Below is my Private Security Guard license.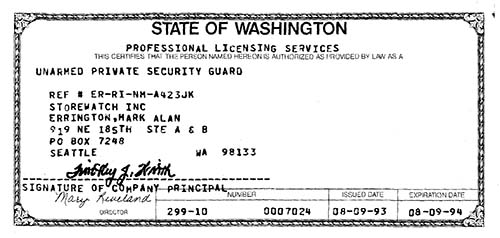 23,336